Experts from four universities in Taiwan including Chinese Culture University (CCU), National Central University (NCU), National Taipei University of Education (NTUE), Taipei Municipal University of Education (TNUE) visited Institute of Subtropical Agriculture, Chinese Academy of Sciences (ISA) on July 8, 2012. The two sides held talks on questions of common interest and agreed to strengthen communication and promote cooperation in the research of agro-environment field.
In Changsha Agro-environmental Observation and Research Station (CAORS), a newly-founded station in ISA, Professor WU Jinshui introduced the research field, current research projects and long-term location experiments. Taiwan experts visited experimental zone in CAORS, Feiyue standard organic tea garden and tea automatic production line in Hunan Xiangfeng Tea Industry Limited Company after the introduction as well.
Taiwan guests showed great interests to the experiments which treated non-point source pollutants using the approaches of economic and ecological wetlands. They highly praised the building mode of CAORS, which is jointly established by institute, government and local company. They also hailed CAORS's glorious achievement in foundation construction and experimental study in only two years.
"Cross-strait agriculture communication and collaboration are the main component that cross-strait classics trade concerns, so we are all too pleased to strengthen communication and cooperation with ISA." said one expert in NCU.
Prof.WU also expressed that ISA will take advantage of the resources it had to improve the scientific capacity and promote sustainable cooperation with Taiwan.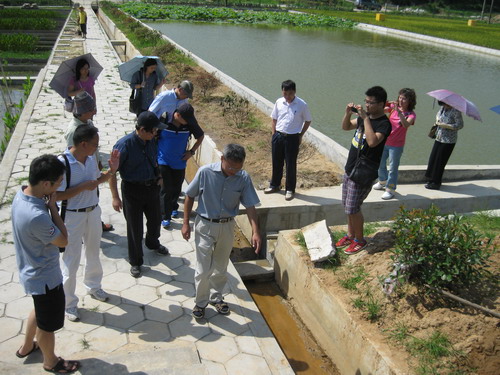 Prof.WU Jinshui introducing CAORS