At the invitation of Prof. TAN Zhiliang from Institute of Subtropical Agriculture (ISA) of Chinese Academy of Sciences and Youth Innovation Promotion Association of ISA, Prof. Lukuyu from International Livestock Research Institute, Prof. HAN Jianlin from CAAS-ILRI Joint Laboratory on Livestock and Forage Genetic Resources, Institute of Animal Science, Chinese Academy of Agricultural Sciences, Prof. Emilio M. Ungerfeld from Instituto de Investigaciones Agropecuarias INIA Carillanca of Chile and Prof. SUN Xuezhao from JiLin Agricultural Science and Technology University visited ISA from April 16th to 17th.
Scientists took participate in the Ruminant Livestock Nutrition and Metabolism Forum and the NSFC-ILRI International Cooperation Project Mid-term Seminar.
Mr. TAN Zhiliang gave a welcome speech and expressed his gratitude to the attending experts. Prof. Lukuyu introduced the research actuality, treatment measures and experimental design of local crop residues in Kenya and Tanzania, and expected that the project partners can work together to improve the productivity of the livestock industry and effectively improve the living standards of local small farmers.
Associate Professor WANG Min of ISA introduced the detailed research progress on physical, chemical and fungal pretreatments to destroy fiber structure of crop residues, improve ruminal degradation and reduce methane emissions.
Prof. HAN Jianlin made a report entitled "Livestock genomic adaptation to climate changes via long-term natural selection within and/or historical introgression between species", and introduced the adaptation of livestock genomes to climate change through historical introgression between species under long-term natural selection conditions.
Prof. SUN Xuezhao gave a report titled "Application of Complete Diet Pellet in Meat Sheep Fattening", detailing the progress of improving the utilization efficiency of agricultural by-products by complete diet pellet. Prof. Emilio M. Ungerfeld gave a report entitled "Rumen energy metabolism and methane production", and introduced the research on the regulation of methane emission reduction in ruminants and the relationship between rumen fermentation model, rumen hydrogen metabolism and amino acid metabolism.
Experts expressed their full affirmation of the preliminary results of the project, and made valuable suggestions for the implementation and output of the project, which provided a good guarantee for the realization of the project objectives.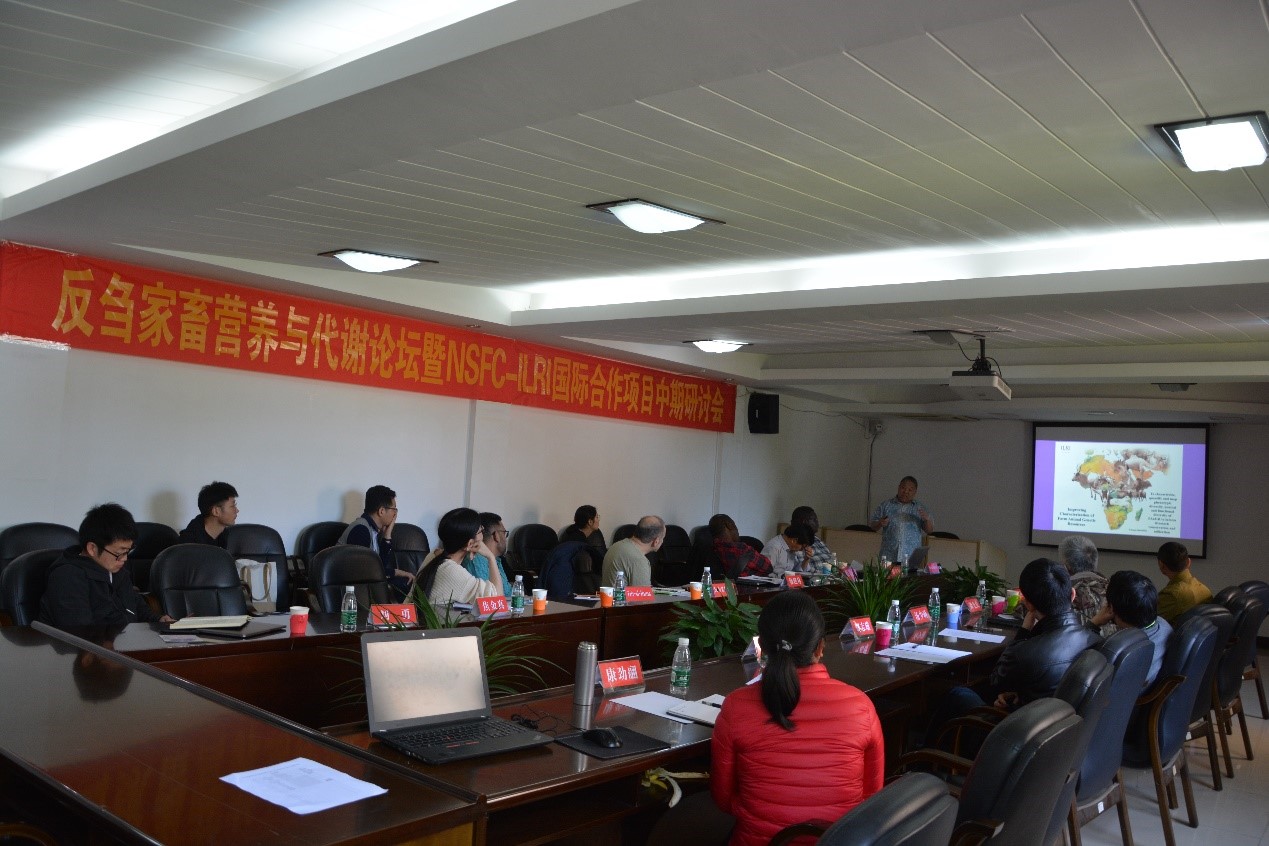 Prof. HAN Jianlin gives a lecture

Group photo of participants